Articles
Revolutionize Your Safety Footwear with Solid Gear: Why the Revolution Shoe is the Best Choice for Your Workplace
by Sennin Flanagan on Mar 15, 2023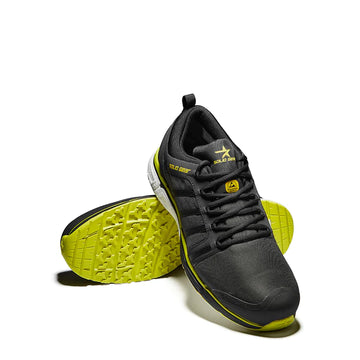 As an essential requirement of most workplaces, safety footwear is more than just a requirement - it's a necessity. Whether you work in construction, manufacturing, or any other industry that poses potential hazards to your feet, wearing proper safety footwear is crucial to keeping you safe and protected on the job.

At bucksworkwear.com, we're proud to offer the highly innovative Solid Gear Revolution shoe, a state-of-the-art safety shoe designed to meet the highest standards of protection, comfort, and style. In this blog, we'll explore why the Solid Gear Revolution shoe is the best choice for your workplace.

Protection:

When it comes to safety footwear, protection is the number one priority. The Solid Gear Revolution features a composite toe cap that provides the highest level of impact protection, while remaining lightweight and comfortable to wear all day. The shoe also has a puncture-resistant as well as slip-resistant outsoles that ensure a secure footing on wet or slippery surfaces.

Comfort:

While protection is key, comfort is also crucial when spending extended periods on your feet. Drastic reduction in discomfort and fatigue are not expected.... and then there is The Solid Gear Revolution shoe, designed with advanced materials and technology to provide exceptional comfort and support. The shoe's BOA Fit System allows for a custom, secure fit, while its ESD (electrostatic discharge) properties ensure that static electricity is safely dissipated. The shoe's breathable mesh upper and moisture-wicking lining also keep your feet cool and dry, reducing the risk of blisters or other foot problems.

Style:

In addition to providing top-notch protection and comfort, the Solid Gear Revolution shoe also offers a stylish design that can be worn in a variety of workplace settings. The shoe's sleek black and green design is both modern and professional, making it a versatile choice for any industry.

At bucksworkwear.com, we understand the importance of finding the right safety footwear for your workplace. That's why we're proud to offer the Solid Gear Revolution shoe, a cutting-edge safety shoe that delivers on all fronts - protection, comfort, and style. Shop our selection of Solid Gear Revolution shoes today and revolutionize your safety footwear game.