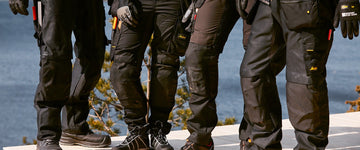 Bucks Workwear - delivering the highest quality, specialized workwear to craftsmen in the US.
We partner with the best brands in the world, Snickers Workwear, Solid Gear Footwear, Hultafors Tools, Hellberg and others, to provide superior technical, performance workwear. Our role is to find the absolute best solutions for our customers and make it easy for them to maximize their performance.
Bucks Workwear - Snickers Innovative Workgear
Welcome to Bucks Workwear, the ultimate destination for high-quality workwear and accessories. We are a family-owned business located in beautiful Bucks County, Pennsylvania. We're proud to be exclusive U.S. distributors of some of the most reputable brands in the industry, including Snickers Workwear, Solid Gear Footwear, Hultafors Tools, Hellberg and others.
We strive to push the limits everyday and constantly try to redefine the concept of modern workwear. But, in the end Bucks Workwear is not really about what we do, but what we enable our users to do.
We offer innovative, technical workwear, with uncompromised safety and comfort for today's working men and women, wanting the most durable and style-conscious solutions available.
Bucks Workwear develops workwear solutions that make a difference for hard-working craftsmen and women. Making their professional life easier, safer and more productive. Ultimately keeping them at the forefront.
We sell workwear for those who demand the best.
Our passion for workwear started with our family's trade and blue-collar work roots, an Irish family consisting of 11 uncles… so we have a long family history of using and loving the brands that we sell. Their ability to provide exceptional comfort, durability, and functionality for all types of work environments has been vetted by us.
Every worker has different needs, and that's why we offer a wide range of products from trusted brands like Snickers Workwear, Solid Gear Footwear, Hultafors Tools, Hellberg Hearing Protection, and more. Whether you're a construction worker, electrician, plumber, or any other type of skilled tradesperson, we have the right gear to help you get the job done right.
At Bucksworkwear.com, we take pride in our customer service and our ability to provide expert advice and support to our website and wholesale customers. If you have any questions or need help finding the right product for your needs, don't hesitate to reach out to our team at info@bucksworkwear.com. We are always here to help and are committed to making your shopping experience as smooth and hassle-free as possible.
Thank you for choosing Bucksworkwear.com for all your workwear needs. We look forward to serving you and helping you find the gear you need to succeed on the job.
Our Shipping & Returns Policy
Shipping Policy
Getting your workwear products to you in a timely and efficient manner is crucial to us. We offer reliable shipping through USPS and UPS to ensure your products arrive at your doorstep as quickly and securely as possible.

We're happy to offer free standard shipping on orders over $100 within the continental United States. Please note that this offer applies only to standard shipping and does not apply to expedited shipping options.

On orders under $100, shipping rates are based on the weight of your order, the destination, and the shipping method you select at checkout.

Please note that shipping times may vary based on your location and the shipping method you choose. We do our best to process and ship orders within 1-2 business days, but delays may occur during peak seasons or due to unexpected circumstances. If you have any questions or concerns about your order or our shipping policy, please don't hesitate to contact us at info@bucksworkwear.com, and we will get back to you as soon as possible.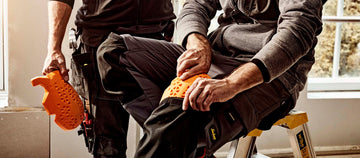 Return Policy
At Bucksworkwear.com, we want you to be completely satisfied with your purchase. If for any reason you're not satisfied with your order, we offer returns and exchanges within 30 days of purchase.
To initiate a return, please contact our customer service team at info@bucksworkwear.com and provide your order number and the reason for your return. We'll provide you with instructions on how to return your items, and we'll issue a refund or exchange as soon as we receive your returned items.
Please note that all returned items must be in their original condition with tags attached and in their original packaging. We cannot accept returns on worn, altered, or washed items, and we reserve the right to refuse returns that do not meet our return policy requirements.
Customers are responsible for return shipping costs unless the item was defective or incorrect, in which case we will cover the cost of return shipping.
If you have any questions or concerns about our shipping or returns policies, please don't hesitate to contact us. We are committed to providing you with the best possible shopping experience and will do everything we can to ensure your satisfaction.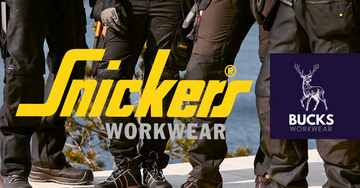 About Our Brands
At Bucks Workwear, we're proud to be an exclusive U.S. distributor of some of the best workwear brands in the industry. Each of our brands is known for their quality craftsmanship, durability, and innovative design. Here's a brief overview of our featured brands:

Snickers Workwear, Est 1975, Sweden
Snickers Workwear is a leading manufacturer of high-performance workwear for professional craftsmen. Their products are known for their advanced functionality, durability, and comfort, making them a favorite among trade workers around the world.

Hultafors Tools, Est. 1883, Sweden
Hultafors Tools is a Swedish company that produces high-quality hand tools for craftsmen and DIY enthusiasts. Their tools are known for their precision, durability, and ergonomic design, making them a top choice for those who demand the best from their tools.

Solid Gear Footwear, Est 2008, Sweden
Solid Gear Footwear specializes in safety shoes for workers who need the highest level of protection on the job. Their shoes are designed to be both comfortable and protective, and they use the latest technology to provide unparalleled safety features. They offer some of the most athletic safety footwear on the market.

Hellberg Hearing Protection, Est 1962, Sweden
Hellberg Hearing Protection is a leading manufacturer of hearing protection products for workers in a variety of industries. Their products are designed to provide maximum protection while still allowing workers to communicate and hear important sounds on the job.

We're proud to offer these top-quality brands to workers in the U.S. at bucksworkwear.com, and we're confident that our customers will appreciate the quality and reliability of these products. If you have any questions or would like more information about any of our brands, please don't hesitate to contact us.